FARMAD

was established as a General Trading Co., Ltd. in

1992

by

Far

had and Moham

mad who had just graduated from university. The word 

FARMAD

 derives from the first and last syllables of their names. 
The two co-founders decided to put the company on suspension mode after a few months and pursue their shipping and logistics career when they received an attractive offer from a European freight forwarder that was providing them an intensive training while creating a nice encouraging platform to learn and grow. Since then, they both had several key positions in some of the most famous and reputable international shipping and freight forwarding companies. Later, they also built up their own business entities separately.
In

2018, they decided to reactivate their first base – 

FARMAD

 Co., Ltd.- as a shipping agency and join their forces toward achieving bigger objectives in the shipping world. 
Then in 2020, 

FARMAD

 Shipping Company unveiled 

FARMAD

 CONTAINER LINE as an NVOCC, serving the Iran-India route, to exclusively accommodate Refrigerated goods being exported from Iran & Afghanistan to India and vice-versa, through Chabahar port of Iran.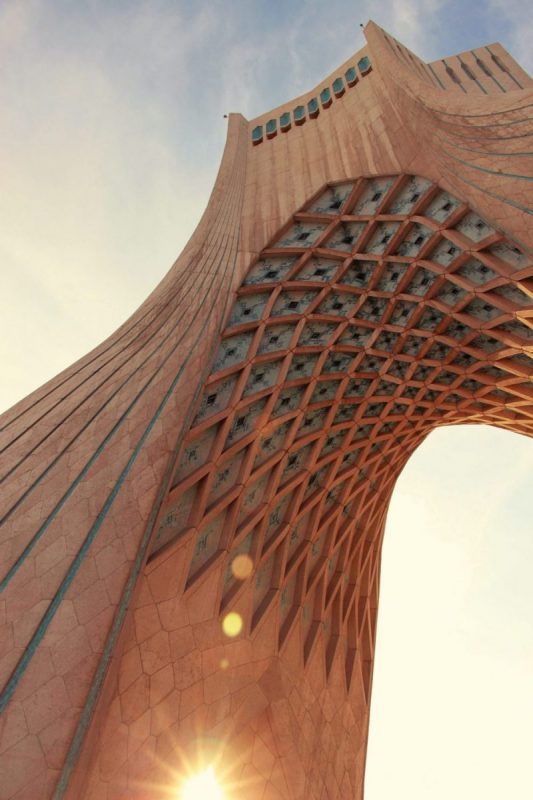 Original Full Registered Name: FARMAD (Trading) Company Limited
Current Licensed Name: FARMAD (Shipping Agency) Co., Ltd.
Company Type: Limited Liability 
Function: Shipping Services (NVOCC, Liner Agency)
Original Registration No. in Tehran: 92968 (registered 1992)
Current Registration No. in Chabahar, after moving head office from Tehran to Chabahar: 1891 (since 2019)
Licensed by: Port & Maritime Organization of Iran (PMO.IR) – License Number 44533/98/S
The first logo of FARMAD Co., Ltd.
(When FARMAD was established as a Trading Co.)
1992-2019
Our New Logo after rebranding
(When FARMAD Shipping Co. entered a new era)
Rebranded 2020
As described in the History section above, our company's name derives from the first and last syllables of the founders' names – Farhad & Mohammad. 
Our logo represents the same in both Persian
The two waves illustrate sea tide color during day and night and also in different oceans and seas while referring to the import and export of light and heavy goods
As described in the History section above, our company's name derives from the first and last syllables of the founders' names – Farhad & Mohammad. 
Our logo represents the same in both Persian
The two waves illustrate sea tide color during day and night and also in different oceans and seas while referring to the import and export of light and heavy goods
We relocated our head office from Tehran to Chabahar in 2019 to emphasize our intention for playing an active role in the development of Chabahar Shahid Beheshti Port which has been taken over by government-owned India Ports Global Private Limited (IPGPL). IPGPL has selected Kaveh Port and Marine Services, an Iranian company, for running the interim operations that started in December 2018.
More information on:
We have decided to put our three decades of shipping and multimodal transport knowledge and skills into use for developing the important International North-South Transport/Transit Corridor (INSTC), connecting the Commonwealth of Independent States (Caucasian countries …), Afghanistan, and Europe to the Persian Gulf via Iranian territory. INTSTC serves as a bridge between India and CIS, Afghanistan, Europe.
Our decision is also in line with the Ashgabat agreement which is a multimodal transport agreement between the governments of Iran, Kazakhstan, Uzbekistan, Turkmenistan, India, Pakistan, and Oman for creating an international transport and transit corridor facilitating transportation of goods between Central Asia and the Persian Gulf. The agreement came into force in April 2016. The agreement was originally signed by Iran, Oman, Qatar, Turkmenistan, and Uzbekistan on April 25, 2011. Qatar subsequently withdrew from the agreement in 2013, the same year Kazakhstan applied for membership, which was eventually approved in 2015. Pakistan has also joined the Agreement since November 2016. India formally joined in February 2018.
Management and Personnel​
The management team of FARMAD consists of two levels:
Members of the Board each having 3 decades of continuous and successful experience in the fields of Shipping, Logistics, International Transportation, Trading, and Customs Clearance.

They have successful cooperation records at high-level management capacities with leading names in the transportation and trading world such as APL, HMM, KUEHNE+NAGEL, P&O, and KNAUF, etc., in their portfolio

Managers of company units  such as Customer Services, Operations, Documentation, Financial and Administration Affairs, each having background experience in agencies of some of the most credited shipping lines in the world
Personnel
One of our important fundamentals is to hire an energetic team with an above-market average level of qualification (like fluency in the English language, deep knowledge in today's world software, decision making in hard situations, etc.). Moreover, occasionally and with suitable intervals, our staff passes different training courses in order to render the best possible services to our valuable customers and principal lines.
Customer Services

Documentation

Operations

Administration-Accounting-HR

Sales

IT
This unit is responsible for providing our valued customers with the smoothest possible service quality at the soonest possible time. It is working as a liaison between customers, and other company units, and its main job is to make sure our customers remain fully satisfied with our performance and services under any circumstances.
Preparation and issuance of correct and complete documents required by relative organizations (port, customs, etc.), customers, and business partners are the main duties of this unit. Moreover, it consists of sections such as "Equipment Control" and "Damage and Claims". 
This unit is responsible for organizing and execution of operational affairs related to vessels and containers under our management or agency agreements, as well as supervising our terminal operators' and agents' performance worldwide.
Rendering accurate and timely receipt/payment services and SOAs to customers, business associates, and agents, as well as recording bank accounts transactions, tax affairs bookkeeping, statistics reporting to the management, and business partners, are some of the duties of this unit. Moreover, it is responsible for legal affairs, payroll preparation, personnel affairs, updating and organizing licenses, contracts, memberships, powers of attorney, and other official company documents.
Obviously, the company's engine which is continuously run and maintained by other units needs fuel supply. This is when our sales team shows up and acts. So, last but not least of our company's units is our motivated and assertive sales force.
Managing procurement, maintenance and updating hardware and  software used in company's branches and agents worldwide is the main duty of this unit. 
ICC BIC
Bureau of
International Containers
SAOI
Shipping Association of Iran​
ZCCIM
Zahedan Chamber of Commerce, Industries, Mines, & Agriculture
The more we expand our services and network, the more we need qualified and committed colleagues to join the FARMAD team in its journey. We do not just offer jobs; we provide career opportunities.
The chance to join an actively progressing company to have a better life

The promise of working in a healthy and friendly environment that brings employees' peace of mind and well-being

The possibility of growth in an international working network that brings them easy mobility

Training programs to shape their skills and uplift their qualification level

A delegation-oriented management style that gives employees the self-esteem they need to build their future
Punctual and precise

Sharp and eager to know more

Physically and emotionally flexible

Capable of handling difficult working situations

Ready to suggest improvement methods and solve problems

Easy to interact with other colleagues in an international working environment 

Fluent in English and familiar with Office software at a certain required level